KEEP THE FAITH
jag städade min garderob i veckan och hittade denna fina t-shirten.

om ni är på jakt efter t-shirtar med tryck så ska ni kolla in märket
the imaginary foundation.

det finns helt underbara budskap som "music is a force of nature", "paint peace" och "create beauty"
jag har även
denna.

jajaa, nu slutar jag snart här. då blir det till att köpa en flaska rött och lite mat.
trevlig fredag på er!
ps.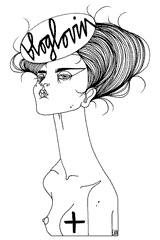 ds.
---
Kommentarer
Det är kul att finna snygga plagg i garderoben!;)

Tack för tippet , alltid kul med t-shirts!
Cool Tisha..:)

Hur är läget med dig då?
Trackback